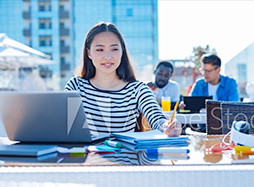 Over the years, computers and other Information Technology equipment have become a mandatory component for normal daily business operations.
As for spending on IT assets increases, what should companies do to computers and the information that is stored on them as they reach the end of their life? Utilize IT asset disposition (ITAD) to properly secure and dispose of your outdated technology and ensure that you are in compliance with regulations. Before offloading your gear to any ITAD service, consider the four key tenets of ITAD to guarantee that your sensitive information will be handled safely and responsibly.
What are the Main Principles of ITAD?
If you are an IT leader, you already know how important it is for your business to employ ITAD practices that safeguard your operation and help your organization meet the changing demands of today's digital media landscape.
Here are four main principles of ITAD to consider before choosing your provider:
Data Security: ITAD providers should exercise due diligence when it comes to ensuring that equipment is disposed of correctly. Data security is extremely important since seemingly outdated IT assets could be hiding private information, even if you believe the data has already been destroyed. Look for a secure chain of custody to demonstrate that your materials are protected as soon as they leave your hands.
Regulatory Compliance: Making sure your business remains compliant is essential for success. The improper disposal of e-waste could result in a fine; therefore, it is important for businesses to team up with an ITAD provider that works under the specific protocols. Certifications should demonstrate a secure chain of custody, dates and methods of sanitization amongst other things.
Valuation: Each piece of equipment must be audited in order to determine its condition and value for resale, disposal or recycling. Auditing processes are important for assessing how much of a financial return you will receive and the proper tracking of product serial numbers. Custom audit reports are a necessary part of your information chain.
Sustainability: With the latest technologies in high demand, electronic devices are becoming the fastest-growing waste stream. E-waste contains toxic substances that leach into the earth, affecting the environment. An environmental certified provider follows strict regulations and ensures that any materials that cannot be recycled do not end up in landfills and are instead disposed of using the right channels.
Tech Reset is proud to provide businesses across Ontario with ITAD solutions that put money back into your pocket. As a leader in the ITAD industry, our services go beyond recycling your old computers. We are committed to making the planet a much better place for future generations by ensuring the proper disposal of e-waste. More than 90% of the IT equipment that comes our way has been resold, repurposed, or donated. In addition to reducing our environmental impact, we offer on-site removal carried out by our insured and experienced team of technicians. Whether you are getting rid of data or physical hard drives, we guarantee that all materials will be processed and destroyed safely, securely and completely.
Call us toll-free at 1-800-403-3610 or fill out our online form to learn more about ITAD. Find out how your company can earn revenue from e-waste disposal at TechReset.